I went to the Y tonight for a new class they are offering called ShimmY, which is really belly dancing.
It is free for Y members to attend before the class officially begins in mid-September and then you have to pay extra for it.
While I thought it was fun to try a new class out, I don't think belly dancing is for me. I would look at myself in the mirror and think "who is that robot!?"
This picture below is not my class, but this is kind of what we were doing. Maybe I just needed one of those things on my hips to help me move a little more smoothly?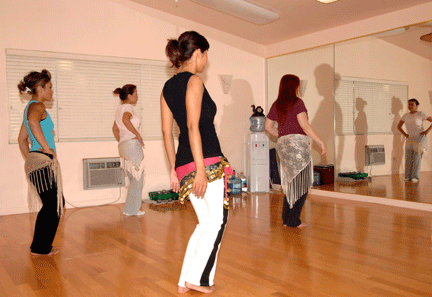 The teacher did come around and correct us if we weren't doing a move correctly, which was nice. She came around to me twice and I needed to loosen up the way I was moving a couple of times.
Positives:
-Loved the music. Someone asked the teacher what type of music it was and she said Egyptian.
-The instructor we had was good at explaining the moves and adjusting for our levels. It's just too bad that I am horrible at watching teachers do the moves when they are facing a class. Luckily, someone asked her to face the same direction as us and that helped a lot.
-I also liked that she came around and corrected us. I wish yoga teachers did that more often.
Negatives:
-I'm just not a great dancer, but I think the moves are still hard to understand and do if you have never done them before. It reminded me of Zumba. Despite having good instructors and watching others, if you don't do Zumba often enough, you forget some of the dance moves.
-Tonight's class was simply introductory, so we didn't really get a great workout in. I am not sure if belly dancing would make me feel like I got the best cardio workout, even if we were moving more quickly. I could be completely wrong though and shouldn't judge after the first class.
I really wish the Y would offer an Indian dancing class because I think I would be much better at that and I love Indian music.
Have you ever tried a belly dancing class? If so, what did you think?