A few bloggers have come up with creative ways to keep us all active during the month of December.
Janetha at
meals & moves
posted the "dedicated december!" idea on her blog today and I joined in on the fun. Check it out--there are some cool prizes up for grabs for logging your workouts too! Each one you log in the comments gets you an entry. Just click on the picture below to check it out for yourself.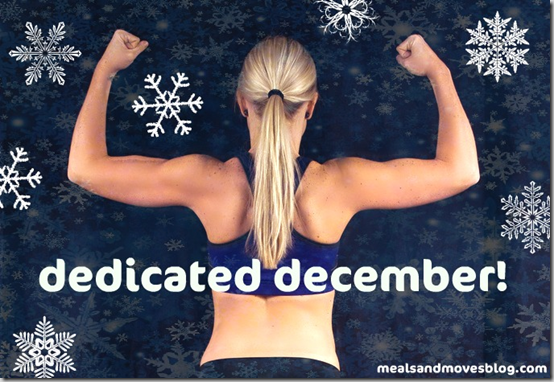 And Kristin at
Iowa Girl Eats
has a 20 Day Holiday Workout Challenge.
I worked out tonight by getting in a full circuit of weights, 20 minutes on the bike, 20 walking and running on the treadmill. I figure that it's going to get snowy and I won't want to venture out at times this month, so I better get my workouts at the gym in when the weather is ok yet.
P.S. I picked the winner of the
Duncan Hines coupons
tonight. Congrats to Jessica at
Healthy Dairyland
, who I have had the pleasure of meeting in person. :) She's running the Rock N' Roll Half Marathon in Vegas this weekend for a cause very near and dear to my heart (Team Challenge for Crohn's and colitis), so hop on over to her blog and wish her luck!